Microchip Implantation Without Anesthesia in Pre-Weaned Mice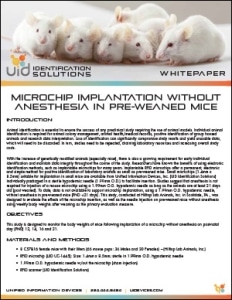 Animal identification is essential to ensure the success of any preclinical study requiring the use of animal models. Positive animal identification is required to link to essential data, such as sex, genotype, study parameters and results. Loss of identification can significantly compromise study results.
With the increase of genetically modified animals, there is also a growing requirement for early individual identification in order to link all subsequent data and comprehensive health history to each animal and maintain data integrity throughout the course of the study. Implantable RFID microchips are ideal for this application as they offer a permanent, electronic and simple method for positive identification of animals as small as neonatal mice.
This white paper summarizes data from a recent study that shows the feasibility of inserting a small microchip without anesthesia in pre-weaned mice for positive and permanent identification.
Download White Paper
Fill out and submit the form below for immediate access to the white paper